Cultural Exchange and Shifting Perspectives
Our Guests So Far and Where They Came From
You Write. We Do the Rest
It is often easier to get down to work far away from the concerns of everyday life. The Literaturhaus Zurich and the PWG Foundation offer guest writers the opportunity to do just that, in a project generously supported by the Canton and the City of Zurich. Recipients of the fellowship can spend six months concentrating intensively on their writing in the vibrant working and living environment of Zurich.
The public utility housing foundation PWG contributes a furnished apartment in a calm residential area in the city of Zurich. And, with its expertise, high public profile, and international network of contacts, the Literaturhaus ensures writers feel at home during their residency and have time to write. There are two writer's residencies available each year, and the fellowship is not open to application but awarded by the Literaturhaus.
A Quiet, Yet Central Place to Work
The apartment provided by the PWG Foundation is located in a quiet, yet central area. The Kreis 7, a popular residential area, is located in the east of the city between the Lake of Zurich and the Adlisberg forests. The apartment has a combined living room and study, one separate bedroom and two balconies. Along with a kitchen, a bathroom and a storeroom, it is an ideal place to live and work. The bright, comfortable 60 square meter apartment is located on the 1st floor (no lift) of a building with a total of 8 apartments, which was completely renovated in 2018.
The apartment has a combined living room and study.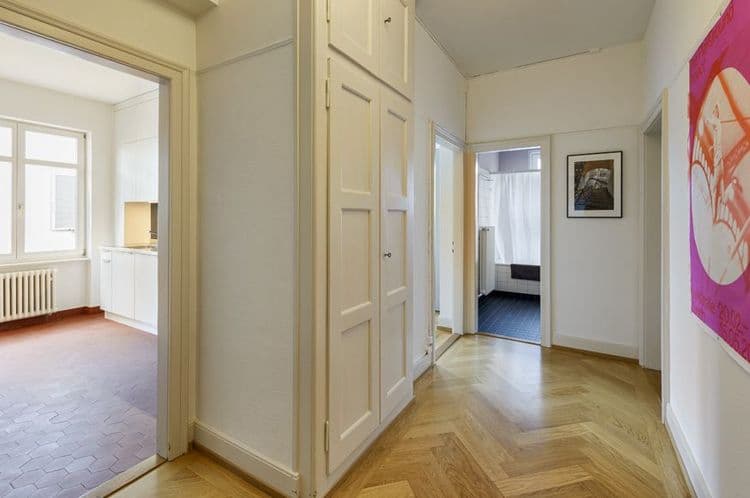 The bright entrance connects all rooms of the apartment.
Project Partners and Contact
PWG Foundation
A popular initiative led to the establishment of the public PWG Foundation in 1990. Its task is to acquire real estate and create new buildings in the City of Zurich – its mission is to keep these properties permanently out of the reach of speculators. PWG's purpose is to retain affordable residential and commercial spaces. The PWG Foundation initiated Writers in Residence Zurich to celebrate its twentieth anniversary in 2010.
Literaturhaus Zurich
The Literaturhaus in the heart of the old city of Zurich is part of the Museumsgesellschaft, which was founded in 1834 and has a richly stocked library and a reading room with a large range of newspapers and journals. The Literaturhaus was founded in 1999 and is a meeting-place for both readers and writers, where publishers, booksellers and journalists, poets and critics, readers and aficionados come together for lively conversation. It offers space for readings, discussions, and symposia, in short for events of all kinds.
For more information on the project please contact Pablo Assandri of Literaturhaus Zurich.